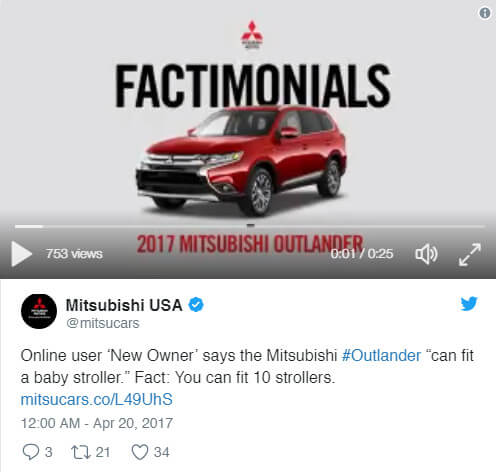 In case you missed it, the video said that you can fit 10 baby strollers, or five baby strollers and five people, or one stroller, seven people, and an inflatable pool. That's not only quite a bit of space, but it's also a lot of versatility.
Think of what you would use your new Mitsubishi Outlander for: grocery shopping, camping, going to the beach, soccer games, dance recitals, picnics, tailgating, road trips. These all require different space dimensions and the Outlander can make room for them all.
How? With its folding second and third row seats. The second row is 60/40 split fold-down capable and, when you have passengers in them, they are able to be reclined or slid however the passenger needs. The 50/50 flat fold-down third row seats create an even larger cargo surface for when you, and your three kids, are going camping and you need room for your large tent.
The Mitsubishi Outlander is more than just passenger and cargo volume though. The standard 2.4-liter MIVEC engine glides you gracefully through the city streets or over those hidden back roads while you relax in the available leather seats and listen to your music blasting over the available nine-speaker, 710-watt Rockford-Fosgate Premium Audio System.
Ready to put the Mitsubishi Outlander to the test?
Then feel free to come to Glendale Mitsubishi, located in Glendale, CA, to take one for a test drive. Bring your family, your friends, your strollers, and even your inflatable pool, and let's put the Mitsubishi Outlander to the test today!